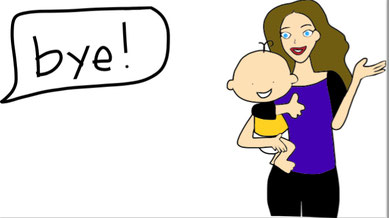 At Dave and Amy English School, we had very popular, effective Mommy and Baby lessons for 7 years.   And then stopped.    Why?   Hint:  It WASN'T because our own children had grown.   Although it was great having Alfie and Leon in the class.
The real reason we STOPPED Mommy and Baby lessons is we found that Mommy and Baby "graduate" students who entered our kinder lessons would prematurely quit.   Transition from being with Mom to being alone in English class was often a huge difficulty for the student.     Confident kids would inexplicably scream the house down when expected to study English without Mom.   Our experience showed that once the heavy crying started, it rarely went away.   And the criers would quit within 6 months. 
If the Mommy and Me graduate DID stay, they often faced a limbo around the age of 4 or 5.   They had learned A LOT of vocabulary, songs, questions and answers and phonics—-but weren't ready for writing (lack of pencil skills).   This meant that the lessons were too easy and repetitive for them.    And some students would quit because they were bored.
So, we decided to STOP Mommy and Baby lessons and to only accept students from their second year of kindergarten.  We have found that 2 years of kindergarten lessons using My English Book and Me 1 and 2 is great preparation for writing from elementary school with My English Book and Me 3.     Children do NOT become bored, constantly progressing from text to text.   And do not quit.
In addition, giving up Mommy and Baby lessons really helped us grow as a school and a business.   Mommy and Baby lessons were only an hour, but took up the entire morning with preparation.  Three mornings a week were devoted to Mommy and Baby lessons.   When we gave up the lessons, we had MORE time to develop our materials.    The result was the My English Book and Me text series and Dave and Amy Games.   
So, by STOPPING Mommy and Baby Lessons we:
1.  Had more time to develop texts and games.
2.  Have LESS students quitting (they start in kindergarten and stay through Jr. High School)
For us it was a WIN WIN WIN.
****  As a side note: after YEARS of teaching and MANY students coming through our school, we have NOT noticed any HUGE benefit from starting EARLY with Mommy and Me lessons.    We think this is because Moms put a lot of effort into singing and speaking in a Mommy and Me lesson.   But maybe not the child.   In contrast, a child who starts English from 4 by themselves, must put all the effort in themselves (and become strong students as a result).    This is just what we have noticed over the years.
What do you do at your school?