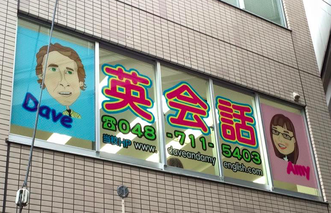 Currently, Dave and I:

1.  Have BRIGHT, COLORFUL eye-catching signs. Essential information only.   Don't duplicate (English school and eikaiwa kyoshitsu— not both needed)    Cartoon faces: might be effective if like Dave you are "facially challenged".     (and faces stand out) 
About us:  All of our school location signs are visible from the street, two signs can be seen from the station platform.    Moya Moya Sammars, the Japanese T.V. show featured us in 2014; a direct result of effective signs.      
Think:  Do your signs stand out?   Do they have unnecessary info displayed?  Distinctive English school name, telephone number, webpage, perhaps a cartoon face, that's all you need.  
---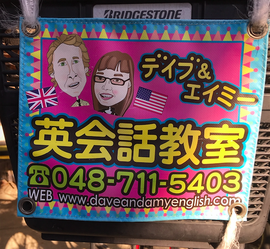 2.  Advertise on your mode of transport.   We have our school sign on our bicycles, our kids' too!   Not cool, but gets the word out.    Put a sign on your car, wheelchair, backpack, whatever. With that advertising comes responsibility, don't be cycling along, topless, swigging beer. You are on show.   Look the part. 
---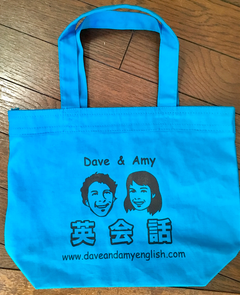 3.  School bags:    Have school bags with school name, your cartoon image, webpage.   Students should use the bag for lessons.    It's great seeing our students walking on the street with their bags, advertising our school.    
Carry the bag yourself, EVERYWHERE.   If someone asks about our school, I hold up the bag….unfortunately for Dave, his picture looks like it was taken when he was 12! People often look and say who dat?
This is where we ordered our latest bags.  I recommend them because they wear well, look good and stand out (as opposed to our previous choices).  ライトキャンバスベルトライントート(S) ターコイズ https://www.totebag.jp/honten/canvas-bag/1064.html 
---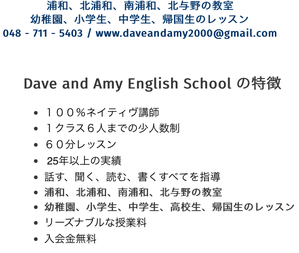 4.   Have a simple, clear website.   Phone number, email @, main selling points on every page and prominent.      Access to school should be easy to find.     
Customers want to find answers quickly.   Most of us don't need to bother with an English translation;  your customers are Japanese.   English is useful for nosy people like me who like looking at other's websites!
This is our 'essential' information.  
---
5.   Get well known in your area.   signs, bags, bike signs... but generally, get well known.    Our kids and Dave play a lot of local soccer.   I am in the PTA and other Moms circles.     Do what you can to become 'famous'.   (this does have draw backs if your kids get into any trouble…. but that's another story)

6.  Be the best school in your area:    The best advertising is word of mouth.   If students recommend your school, then you'll have new students lining up.   
Dave and I don't do other advertising now because our signs, webpage and reputation bring in enough new students.   But we have tried other advertising, which we'll cover in next week's blog. 
Please stay in touch!  Sign up to the newsletter.   

Want to know more about: