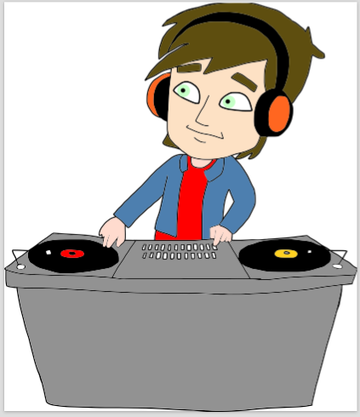 Amy and I came to Japan, in 1996.  Very happy with our job, accomodation, new friends, food, new places.  ..But the neighborhood night scene was like pre-war Britain; I'm guessing here.  Tokyo is brilliant for nightlife, but we wanted to meet people where we lived, in Saitama. 
The turning point was seeing famous UK DJ Fatboy Slim LIVE in Tokyo just before he Rockefeller Skanked into international celebrity and predictable drugs, drink, divorce mayhem.

We spoke to him before his gig.   All he could utter was,  "Got any drugs?"   We could see it coming.    

Anyway he was brilliant; mixing modern dance music with old rock and soul classics.   It got us thinking that we could do that.   Let's buy a DJ mixer system, a few CDs, print a few flyers at 7/11 and see what happens.  From a combination of a love for Sly and the Family Stone and Chinese martial arts, we started the now legendary, Kung Fu Disco with our Irish friend Colin.  

We talked to bar owners with a bit of space for dancing.   We wanted to bring a hundred people and have a disco night.    Owners would refer us to their 2 hour party plan.   We would look at it, laugh and then slowly tear it up in front of them and drop kick it away.    No buster, you do this our way or Kung Fu will boogie off down the lane.   This strategy had mixed results.  But some owners would agree to our demands, we collect a 500 yen fee from guests at the door (our money) and you sell drinks/ food (the bar owner's money).

For youngsters reading, this was when Zuckerberg, Julian Assange and Ed Snowden were still scrapping in the sandpit. The Internet was still in short trousers.  Our only form of advertisement was constantly handing out ragged flyers to foreigners and likely disco divas in the street.  And use free bulletin boards to promote the good news.

The first party went brilliantly. Quite surreal to see people happy and dancing to some CDs we had in shoe boxes. Our parties quickly became a mainstay of the Saitama/North Tokyo party scene.  A great place to meet people from around the world.   Several marriages were the result of Kung Fu Disco:  a bold statement, but very true.   An Argentinian under 17 soccer squad stumbled in one night, handsome, athletic, fresh faced.   In fact a bit too fresh for their own good as they swept up every available female.   We had numerous parties over the years; some brilliant, some sparsely attended, all fun.

And how did it end?   With a bang of course.   Amy, 9 months pregnant would soon have a thirsty baby mauling her disco boob tube.   The bar owners started to find faults in our customers and ourselves.   It became exhausting, negotiating little details with bar owners who didn't seem to appreciate us bringing lots of business to them.   We decided to retire.  Our kids love music, maybe they will pick up the Kung Fu torch in the future.

Believe it or not, we have some students whose Moms/ Dads went to Kung Fu.  

Lessons learned:  

1.  If you want something and it doesn't exist --- do it/ make it yourself.   We wanted a nightlife and we made one.

2.   Make money out of what you love.   We liked dancing, music and meeting people.    It was nice to combine that with some extra cash (which all went on CDs and booze of course).

Do you have any good Kung Fu Disco stories??