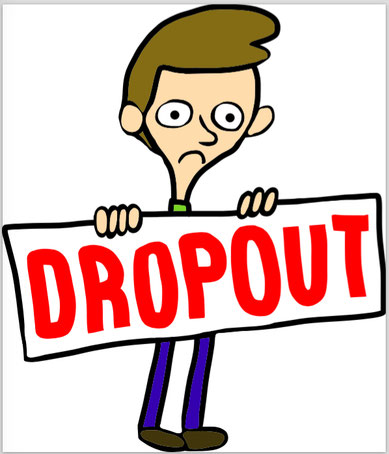 Despite our best efforts, students WILL quit (I would love to tie them down to lifetime contracts, but somehow I don't think that would go down well).
What can we do about quitters?
Pre - empt:  
Provide GOOD, QUALITY lessons at AFFORDABLE prices.   If students like your lessons and if parents can see progress (leveling up in text books), they will begin and NOT leave.   We have students that began in kindergarten and are still with us in Jr High School.   I remember when they were toddlers and now they are taller than me with facial hair.
Give students options and inform them of what's next.   For example, pre - empt the Junior High School exodus by TELLING 6 grade parents about your Jr High School lessons.   Highlight the difference with elementary lessons, the benefits of continuing and GIVE them a time - table.   Ask your students to sign up and reserve their space.   
We do this with our kindergarten students (moving up to elementary lessons) and 6th graders at the end of December.   New lessons begin in March.   They have first dibs on signing up for the best times.
Have good parent liaisons.

 

We send short e - mails telling Moms / Dads how their kids are doing and what they need to work on / what they excel at.

 

We also encourage our teachers to speak with Moms and Dads after the lessons.

   

The formula is:

 

saying something positive, something to work on and something positive to end.

   
Ensure students ARE learning and progressing.

 

If students USE the SAME text, games, flashcards… EVERY CLASS, they WILL get bored (rightly so).

 

Our students and their parents know they are leveling up

every

time they use the next level of Read 'n Match or move on to the next text in the My English Book and

Me

series.

   
When students quit:
Ask them WHY they are quitting

.  We send an e - mail in Japanese asking them specific questions about the lessons.    We say that we are always trying to improve our lessons, so their input is valued.    Of course, not everyone e - mails back, but enough to gain valuable advice.    All will have some advice that you could use to make your school / lessons better.
Persuade them not to leave.   Call Mom and invite her to observe the lessons and see how much her kid has learned.  Parents are often shocked at the rapid improvement.   Mention they will lose their English if they don't practice regularly.   Listen to the Mom.   What are the reasons for leaving?   Often, it's a simple matter of wanting to change class or not liking a classmate:   problems that are easily solved.   Last year, 20 students DIDN'T quit because of this type of intervention.
I am sure I forgot lots of good advice.  If you have anything to add, please do so in the comments.
And hopefully you always have MORE students joining than LEAVING.   To give you some numbers (and maybe make you feel better), last year, we had 130 students leave.   And 210 join.